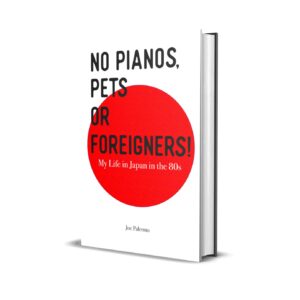 For many expats in Japan the 1980s is somewhat of a mythical time. Tales are told of the explosion in wealth and the wacky degeneracy that led to the "bubble" and the ensuing crash that created the "lost decade". It's rare to find anything substantive written on a personal level from an expat during those times.
Joe Palermo's No Pianos, Pets or Foreigners!: My Life in Japan in the 80's offers many firsthand accounts of what life was like back then. And what surprised me most was that it's not entirely different from what life for an expat in Japan is like now.
The book's opening immediately captivated me. His arrival in Japan in 1982 mirrored almost exactly my own in 2005. He witnessed a young woman being harassed by a shady character, a crowd surrounding them and no chivalrous young men stepping up to offer assistance. It takes a long time to understand why things like that occur in Japan. There are reasons for them and Joe's personal recountings shed a lot of light on the many odd interactions one can experience here.
No Pianos, Pets, or Foreigners! reads almost like a diary. Joe retells his encounters in clear detail and shares his inner thoughts and feelings about what was happening. I believe this was the element I enjoyed most. With the advantages of time, distance and perspective Joe deciphers many of his confusing experiences and presents them to the reader in a rational way. He touches on everything from the mundane, such as train-etiquette, to the emotional with a discussion on suicide. We hop around from one experience to the next, all the while gaining insightful commentary on Japanese society. When read from beginning to end No Pianos, Pets, or Foreigners reveals several nuances of Japanese culture and why for those who have experienced it, fall in love.
I'm not a professional book reviewer, so I don't have a 'star'/rating system in place. But I do want to give No Pianos, Pets, or Foreigners a strong recommendation. It's an especially good book for anyone interested in living and working here.
No Pianos, Pets, or Foreigners is available on Amazon.com in e-book, paperback and audiobook.